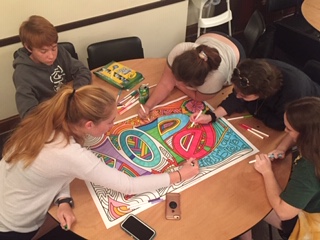 Building Relationships and Growing in Spirit
Wednesdays Together is Fondren's mid-week evening of fellowship, spiritual engagement, and community. The evening includes a meal, time for conversation and fellowship, choir practice for those musically inclined, and a conversation we call Wednesday Dialogues. The Dialogues might be a book study or bible study or a series of conversations on a topic of community or world interest.
During the fall of 2019 we'll focus on the theology of creation or eco-theology. Our season begins with a six week bible study following themes of creation in scripture. Later in the fall we will engage a bible study on Old Testament characters who were real characters!
Dinner this fall includes a culinary tour around Downtown Fondren as well as contributions from some of Fondren Presbyterian's own foodies. Reservations are needed to ensure we have ample for everyone and may be made online using the form below or by signing up at church on Sunday morning. For more information, contact the church office at office@fondrenpcusa.org or 601-982-3232.
August 4
Why Care about Creation? Ezekiel 34:2-3
What in our life of faith is at stake in our relationship to creation?
August 11
The Canvas of God Job 12:7-10
If God's fingerprints are on all creation, how should we live along side the other parts of God's work?
August 18
Springs of Living Water Gushing Up to Eternal Life
Dr. Stan Saunders, our FONDREN PRESents speaker will share insights on the imagery of water in scripture.
August 25
Dining Faith: What How We Eat Says about What We Believe Ecclesiastes 9:7
What does our relationship to food have to say about our relationship with God?
September 1
Soil, Soul, and Solace Luke 8:4-8
How do we connect with the very foundational part of creation?
September 8
Work, Work, Work Genesis 2:4b-25
Humanity is set to work in creation by God. How do our labors reflect our care?
Fall Series 2
Prophets, Heroes, and Kings
Old testament Characters
Sequence TBD
Wednesdays Together
Dinner Reservations